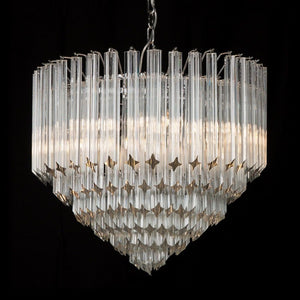 This Atlanta chadlelier is an elegant mid-century style chandelier crafted in Murano glass. Its original design plays on the repetition of sparkling glass elements capable of creating elegantly sophisticated lighting. 
3 lights
Diameter: 25cm
Height: 38cm
A unique handcrafted product, created in our furnaces in Venice, Italy.
The frame is available in golden color and chrome. Each product is shipped with 100% INSURED EXPRESS COURIER.
Material: Murano Glass.
Colours Available: Clear.
25cm Diameter x 38cm H
Delivery Time: 10 - 14 days.
Your delivery costs will be added on checkout.