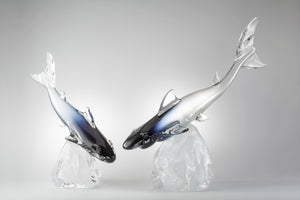 These majestic pieces are handmade in Murano, the large Sharks are made by master glass blowers. The impressive fish comes in 2 sizes, and a simple, contemporary graduating dark blue inclusion within the glass creates an interesting visual and striking texture. It is supported on a heavy clear glass base.
Material: Murano Glass.
Colours Available: Blue and clear
Length: 85cm and 70cm
Delivery Time: 10 - 14 days.
Your delivery costs will be calculated at the check out with the weight and location of the order.